Are you looking for Solutions to file Ace/AMS imports and export to the US and Canada Customs (CBP & CBSA). Are you an Agent, Freight Forwarder or Carrier, NVOCC or VOCC? Our applications offer ACE/AMS filing, a web-based solution and fully compliant, certified and approved by US and Canada Customs, we ensure compliance for the 24hr filing requirements
We offer solutions for Rail, ACE/AMS filing both Imports and Exports to the US and Canada (CBP & CBSA), and our staff secure our 1st class railroads crossings 24/7/365
We ensure that our applications are fully compliant, certified and approved by US and Canada Customs.
Register Today, and Save the Date!
The place where ideas become reality! We are nothing without our customers, and we value the relationship by including our clients in future planning. . As a Flagship Customer you are invited to join our FORUM, where we together find the right path for  the future needs together
Software solutions, web development, maintenance and hosting together with digital marketing is engineered to optimize and grow your business. We customize our solutions to cover your needs.
Get a Quote
Schedule a Demo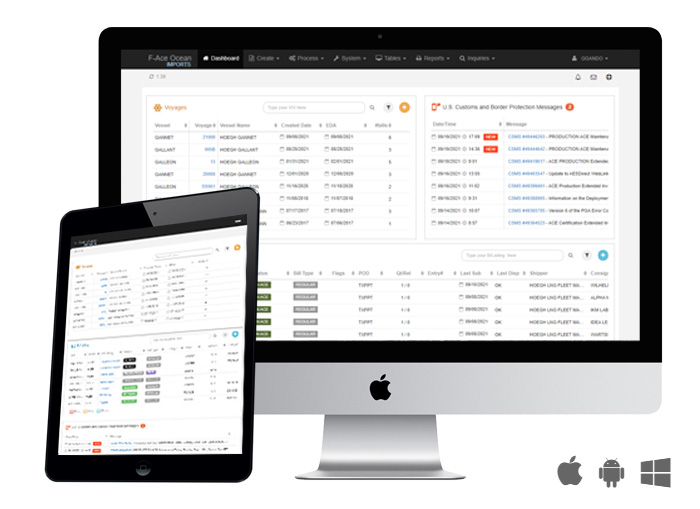 Subscribe to our newsletter:
E-newsletter focused on system and company updates.
Please enter a valid email address.
Something went wrong. Please check your entries and try again.
Headquarters - Fredrick, MD
5100 Buckeystown Pike, Suite 250
Frederick, MD 21704 US
+ (1) 724-727-9925
Global Service Center - Oslo, Norway
Karenslyst Alle 53,  N-0279
Oslo, Norway
+ (47) 21-09-38-18
+(1) 724 727 9925
Accounting Department - Rock Hill, SC
Flagship Trade Net by Bloksberg, Inc.
c/o Abacus Bookkeeping Inc.
1885 Country Manor Lane
Rock Hill, SC 29730
+1 724 727 9925