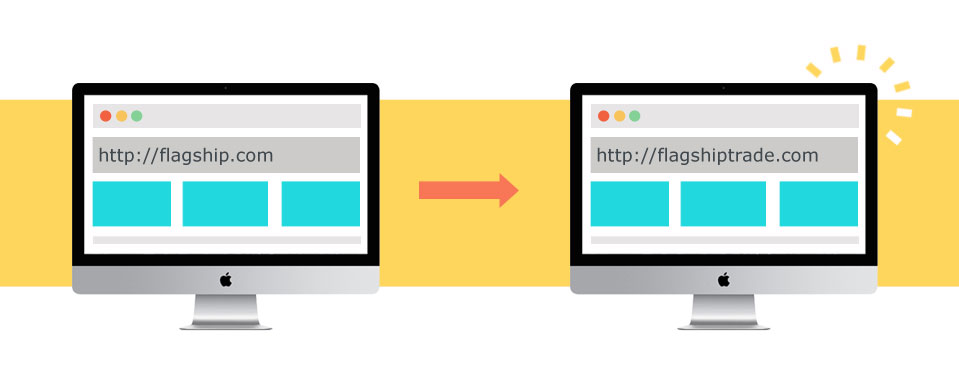 Flagship Trade Net, a leading global service provider to the shipping industry for over 30 years, is setting sail into the future with a new domain name. "Effective September 1, 2019, flagship.com becomes flagshiptrade.com" President and CEO Lasse Syversen announced today.
Flagship.com become flagshiptrade.com September 1st 2019
Mr. Syversen, who has captained the Flagship for more than 20 years, assures that, "The only change our clients and users will see is our new domain name. We are still the same company, with the same dedicated staff and the same great customer service."
The change of domain name is step two in a new branding strategy intended to protect the company and its clients from the increased hacking attempts and cyber threats seen every day. Step one was taken last year when our computer center was moved to Cloud. "Security has always been one of our top priorities as a service organization," Syversen stated. He continued, "Business is going through a generational change; we see this in the political sector, with our clients, and also internally in our company. Flagship Trade Net is our branding and will be more unique by becoming flagshiptrade.com."
As a company, Flagship Trade Net has continuously expanded over the years, empowering the international trade community through its F-applications for filing with Customs in the U.S. and Canada, Import and Export, and for Cargo management. Earlier this year, they opened a Global Sales and Marketing Office in Oslo, Norway with the goal to expand their market to include Europe and Asia and serving our clients in global time-zones.
On September 25, 2019 Flagship will hold its first FlagshipFORUM for their customers. The event is intended to inform clients about recent updates and changes to their systems as well as news from US Customs. "Because Flagship Trade Net is a User-Driven Development company, we invite our clients to help prioritize future developments," explains Mr. Syversen, who urges all Flagship Trade Net customers to register for FlagshipFORUM on the newly developed website -- flagshiptrade.com – as soon as possible, in order to secure your seat
For more information: [email protected] or +1 800 800 FLAG